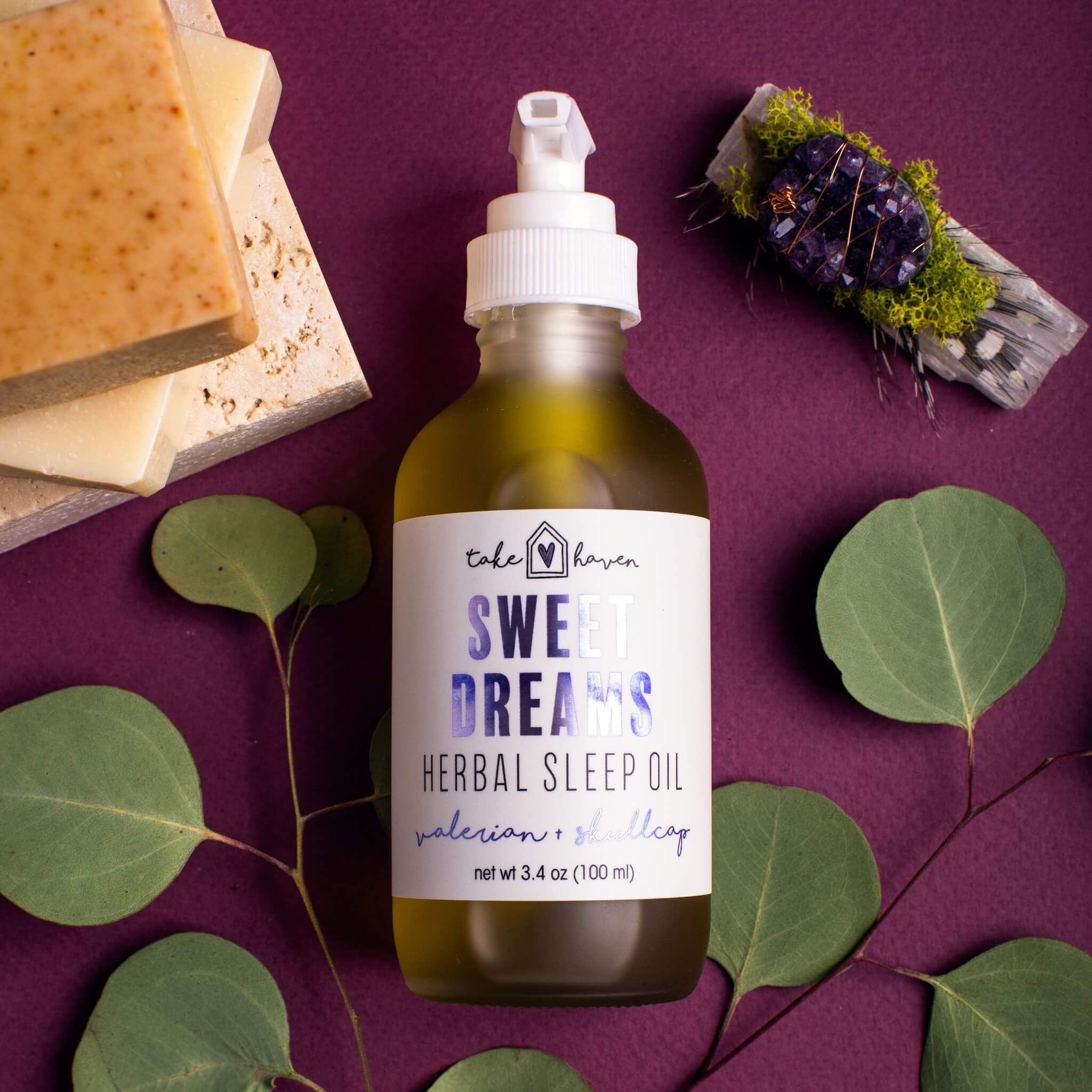 Sweet Dreams Herbal Body & Massage Oil
Body oiling, also known as abhyanga or self-massage, is an ancient practice with roots in Ayurvedic science. It is thought to soothe and nourish the nervous system, stimulate the lymphatic system, and support the immune system. Abhyanga may also improve circulation, reduce inflammation, moisturize the skin, and repair and regulate the skin's moisture barrier.

Take Haven's herbal-infused body oils are formulated to deliver the powerful benefits gifted by nature. They are carefully designed with organic oils, herbs, and steam distilled therapeutic-grade essential oils to nourish your body and harmonize your mind for soulful self-care.

Sweet Dreams is formulated with lemon balm, (gf) hops, skullcap, chamomile, valerian root, ashwagandha, passionflower, bergamot and clary sage essential oils. These herbs are thought to support relaxation, reduce anxiety, reduce restlessness, reduce insomnia, and improve sleep quality for a restful night's sleep.

Take Haven herbal body oils are artisanally crafted in small batches with the highest quality of ingredients to provide effective body care solutions. Small herb particles are normal.

Leaping Bunny Certified / cruelty free
Vegan
Gluten Free
Ingredients: Organic Sesame Oil, Organic Sunflower Oil, Lemon Balm, GF Hops, Skullcap, Chamomile, Valerian Root, Ashwagandha, Passionflower, bergamot and Clary Sage Essential oils.
Benefits:
- Sesame oil is considered the king of oils in Ayurveda and has historically been used for overall wellness. It is easily absorbed and thought to be grounding, nourishing, calming, warming, moisturizing, and nourishing to the muscles, bones and joints. 
- Sunflower oil is high in the antioxidant, Vitamin E and is rich in linoleic acid which may improve the skin barrier. It is non-comedogenic, light, cooling, glides on smoothly, and is easily absorbed.

- Skullcap is thought to positively impact mood and it may reduce anxiety by stimulating GABA. It is often used for insomnia.

- Lemon Balm is thought to relieve restlessness and insomnia and may reduce cortisol levels.
- Ashwagandha is a revered adaptogenic herb and may reduce anxiety, help one fall asleep faster and improve sleep quality.
- Valerian Root is historically used for insomnia and may increases GABA to help one fall asleep faster. It may improve quality of sleep.
- Passionflower is used by herbalists for it's believed calming and relaxing effects. It may increase GABA and may reduce insomnia, anxiety and stress. 
- Hops is thought to have a sedative effect and may reduce restlessness, anxiety, tension, excitability. nervousness and irritability.