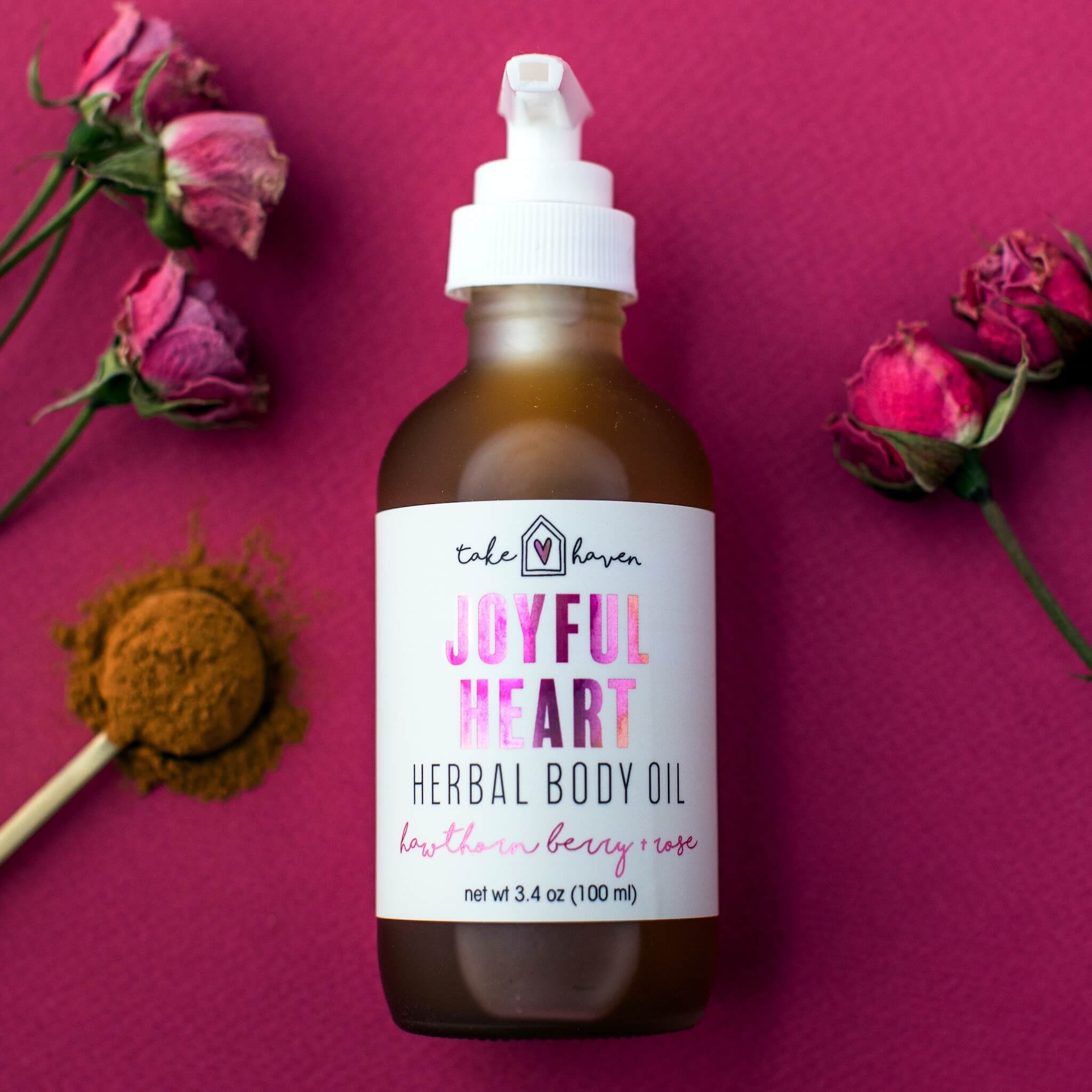 Joyful Heart Body & Massage Oil
Body oiling, also known as abhyanga or self-massage, is an ancient practice with roots in Ayurvedic science and is thought to soothe and nourish the nervous system, stimulate the lymphatic system, and support the immune system. Abhyanga may also improve circulation, reduce inflammation, moisturize the skin, and repair and regulate its moisture barrier.

Take Haven's herbal-infused body oils are artisanally formulated and small-batch crafted to deliver the powerful benefits gifted by nature. They are carefully designed with organic oils, herbs, and steam distilled therapeutic-grade essential oils to nourish your body and harmonize your mind for soulful self-care.

Joyful Heart is formulated with rose petals, hawthorn berries, rose hips, and cinnamon — known to warm, activate, and soften the heart to bring about more joy, love, and positivity.

Leaping Bunny Certified / cruelty free
Vegan
Gluten Free
Ingredients: Organic Jojoba Oil, Organic Sesame Oil, Organic Sunflower Oil, Rose Petals, Hawthorn Berries, Rose Hips and Cinnamon.
Cruelty Free – Leaping Bunny Certified.
Benefits:
- Jojoba oil is deeply hydrating, offers long-lasting moisture, and restores a healthy glow. It is light, non-greasy, easily absorbed, and balances oil production.
- Sesame oil is considered the king of oils in Ayurveda and has historically been used for overall wellness. It is grounding, easily absorbed, nourishing, calming, warming, moisturizing, bolsters the body's ability to handle stress, nourishes the muscles and bones, supports comfortable joint movement, promotes sound sleep patterns, supports intellect and nervous system and nourishes the skin.
- Sunflower oil is high in the antioxidant, Vitamin E and is rich in linoleic acid which may improve the skin barrier. It is non-comedogenic, light, cooling, glides on smoothly, and is easily absorbed.
- Rose petals have a variety of vitamins, antioxidants and minerals and are often used to nourish dry skin, soothe inflamed skin, and balance emotions.
- Hawthorn berries are loaded with antioxidants. They are also thought to energetically open the heart to receive and give love, offer courage, and are said to heal heartaches.
- Rose hips are thought to be anti-inflammatory and are thought to improve the signs of aging, reduce skin pigmentation and moisturize. They are often used for their calming and peaceful energy.
- Cinnamon is a warming herb that gets energy moving and may soften the skin and offer anti-aging properties.
Take good care.